Little Tapestries - Ghindia
Pendant Choker Necklace
(Detailed Images, Full Image)
&nbsp
---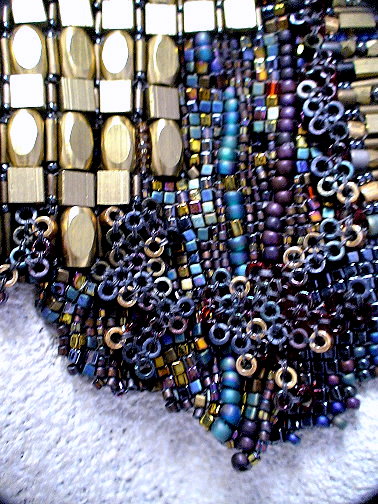 This LITTLE TAPESTRIES - GHINDIA pendant choker necklace interweaves brass, austrian crystal and japanese glass beads. This piece was inspired by a cyber visit to an art show in India, show-casing contemporary Asian and African artists. I was struck by several tapestry pieces in the show. There was a fluid weightiness in their textiles and textures, and a wonderfully uplifting mix and interplay of golds and vivid colors.
The challenge here was how to duplicate the sensibility of the artwork I had viewed, and translate this into something wearable. It had to flow and drape. I wanted it to feel and look like cloth, but at the same time build in a lot of metal.
I also wanted to direct and redirect light. Some beads are positioned on their sides. Some vary in shape, faceted, surface texture or size. All are positioned tightly within a vertical and horizontal grid, yet still undulate somewhat, in spite of the physical boundaries.
To make the whole piece come together, I used what is called the Square Stitch in beadweaving. To allow a fluid, smooth, draping, I created the equivalent of a hinging system between each vertical column of beads. I brought my stringing material into the fore, making my "canvas" part of the artwork itself. This allowed me to create an exciting dichotomy between very rigidly organized spaces and seemingly chaotic disorganized ones.
The oxidized brass necklace chain allows this piece to be adjustable, between 16 and 19". The clasp is a simple hook and eye clasp.
The piece is meant to be worn close to the neck. However, it can easily function as a longer piece, as well.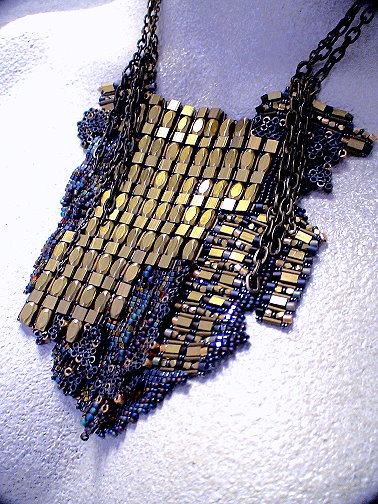 This LITTLE TAPESTRIES - GHINDIA piece is a one of a kind. If you would like something similar, we can work together to design it.
Pricing:
As shown: $7000.00
Pricing for Similarly Designed Pieces:
(will vary a little bit, depending on choice of materials)
$7000.00 with nonprecious metals
$10,000.00 to $15,500 with precious metals
" Little Tapestries/Ghindia" — was juried into the book SHOWCASE 500 BEADED JEWELRY, Lark Publications. August 2012, listed on Amazon.com at http://amzn.to/z6tZH2 .
From Amazon.com:
This book gathers photographs of 500 of the most breathtaking beaded jewelry designs created in recent years. The techniques the beaders employ are as varied as the aesthetic sensibilities they bring to their gorgeous creations and include beadweaving in every stitch imaginable, embroidery, quilling, loom weaving, and kumihimo braiding, as well as basic stringing, simple wirework, and fine metalwork. Sometimes, a bead maker's focal piece simply is set in a straightforward, unpretentious, and beautiful design.Virtually all of the world's most famous beaders who make jewelry have pieces included – including Carol Wilcox Wells, Diane Fitzgerald, Marcia DeCoster, Jamie Cloud Eakin, Huib Petersen, Paulette Baron, Sabine Lippert, Sherry Serafini, Margie Deeb, Maggie Meister, Melanie Potter, Ann Tevepaugh Mitchell, Laura McCabe, Suzanne Golden, Jean Campbell, Rachel Nelson-Smith, Eva Dobos, and many more – but we also present work from many artists who have never been published before. All together, this extensive, international, and fabulous survey of 500 pieces includes work from nearly 300 artists from 30 countries and reveals the striking vision and ambition of today's beading community.


--- Warren Feld