Warren Feld, Jewelry Designer
---

PROFESSIONAL PROFILE:

WARREN FELD
Jewelry Designer

Director, Center for Beadwork & Jewelry Arts and www.LearnToBead.net
For Warren Feld, Jewelry Designer, beading and jewelry making endeavors have been wonderful adventures. These adventures, over the past 32 years, have taken Warren from the basics of bead stringing and bead weaving, to wire working and silver smithing, and onward to more complex jewelry designs which build on the strengths of a full range of technical skills and experiences.

What excites him is finding answers to such questions as:
- What does it mean to be fluent and literate in design?
- What are the implications for defining jewelry as an "object" versus as an "intent"?
- Why does some jewelry draw your attention, and others do not?
- How does jewelry design differ from art or craft?
- How do you judge a piece as finished and successful?

He, along with his partner Jayden Alfre Jones, opened a small bead shop in downtown Nashville, Tennessee, about 30 years ago, and called it Land of Odds. Over time, Land of Odds evolved from a bricks and mortar store into a successful internet business – www.landofodds.com . In the late 1990s, Jayden and Warren opened up another bricks and mortar bead store – Be Dazzled Beads – in a trendy neighborhood of Nashville called Berry Hill. Together both businesses supply beaders and jewelry artists with all the supplies and parts they need to make beautiful pieces of wearable art.
In 2000, Warren founded The Center For Beadwork & Jewelry Arts (CBJA). CBJA is an educational program, associated with Be Dazzled Beads in Nashville, for beaders and jewelry makers. The program approaches education from a Design Perspective. There is a strong focus here on skills development. There are requirements for sequencing the student's classes; that is, taking classes in a developmental order. There is a major emphasis on teaching how to make better choices when selecting beads, other parts and stringing materials, and how to bring these altogether into a beautiful, yet functional piece of jewelry.
Theory is tightly wedded to applications throughout the program, from beginner to advanced classes. Since jewelry, unlike painting and sculpture, must interrelate aesthetics, function and context, much attention is paid to how such relationships should influence the designer. The program is envisioned as preparing the student towards gaining a disciplinary literacy in design -- one that begins with how to decode the expressive attributes associated with Design Elements to a fluency in the management of Principles of Composition, Construction and Manipulation, as well as the systems management of the design process itself.
With Warren's direction, CBJA in conjunction with Land of Odds, sponsors three international contests:
The Ugly Necklace Contest – A Jewelry Design Competition with a Twist!
All Dolled Up: Beaded Art Doll Competition
The Illustrative Beader: Beaded Tapestry Competition
Upcoming programs of CBJA: www.LearnToBead.net, a work now in progress, is our recent effort to extend our CBJA philosphy and successes to a broader audience on-line a href="http://www.warrenfeldjewelry.com/jewelrydesigncamp">Jewelry Design Camp is another planned program, offering intensive 1-week long thematic sessions on some aspect of jewelry design theory and application.

Warren's commitment and concern for the "teaching of beadwork" resulted from watching and talking, over the years, with customers in the shop, who had taken classes elsewhere, or tried to teach themselves from books or online video tutorials. These beaders were not buying parts or using parts to their best advantage. It was obvious that many people had taken classes, but that they weren't necessarily learning something -- at least not learning something that would stick with them, and that they could comfortably apply in other situations. They were memorizing steps, rather than integrating organized processes of thinking, thus designing. They were missing out on the between-the-lines learning that incorporates artistry and design.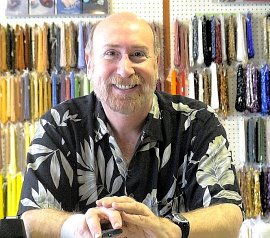 Most classes, books, and video tutorials about beading or jewelry making typically come out of the Craft Perspective, where you learn a set of steps and end up with a particular project. But when you leave that class, or step away from that book or video, you haven't learned how to apply those steps to any other situation, and you probably forget how to do the project. At the shop, Warren and his staff do a lot of re-teaching -- putting things learned into a broader context, showing alternative ways of achieving the same ends, explaining how the choice of materials used in a project will affect how it's done, and how durable it will be over time, and as importantly, teaching techiques as "design systems", not merely a set of steps toward an end.

Warren leads a group of several instructors at CBJA. He teaches many of the bead-stringing, jewelry design as well as business-oriented courses in the CBJA curriculum. He works with people just getting started with beading and jewelry making, as well as with the program's advanced bead study groups. These groups meet regularly to learn, try out and experiment with beading techniques, sometimes exploring issues cross-culturally, and othertimes, examining the works of particular bead- or jewelry artists over the course of their design careers.
---

JEWELRY DESIGN SPECIALTIES:
Bead Weaving
Bead Stringing
Wire Weaving
Design Theory
Business of Craft
Silversmithing
Contemporizing Traditional Jewelry
Vintage Revival Styles
Mixed Media Applications
Art vs. Craft Jewelry Design Applications

---
WARREN SELECTED AS FINALIST , 4th place, for "Canyon Sunrise", SWAROVSKI's Be Naturally Inspired Design Contest 2008

---
" Little Tapestries/Ghindia" — was juried into the book SHOWCASE 500 BEADED JEWELRY, Lark Publications. August 2012, listed on Amazon.com at http://amzn.to/z6tZH2 .


---



Bead & Button Show, June, 2019


Instructor, 3 bead weaving classes, Japanese Garden Bracelet, Etruscan Square Stitch Bracelet, ColorBlock Bracelet

2019 B&B Class Catalog


---
Guest Artist, Jewelry Television (jtv.com)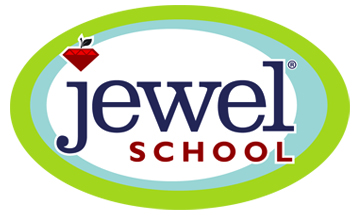 October, 31, 2018
Shared inspirations and aspirations, and demonstrated basic techniques, for three projects:
Streetscape:Barcelona Bracelet; Mother's Celebration Bracelet; Petersburg Chain Rope Bracelet




View Warren as Guest Artist on JTV.com Jewelry Television's show "Jewel School"
as he discusses these specially adapted projects for Jewelry Television.
Mother's Celebration Bracelet
Petersburg Chain Rope Bracelet
Streetscape: Barcelona
---
Workshop Leader, Your World Of Jewelry Making Cruise"
Celebrity Cruise Line, 2/29/20 - 3/5/20
Miami to Key West to Cozumel, Mexico to Miami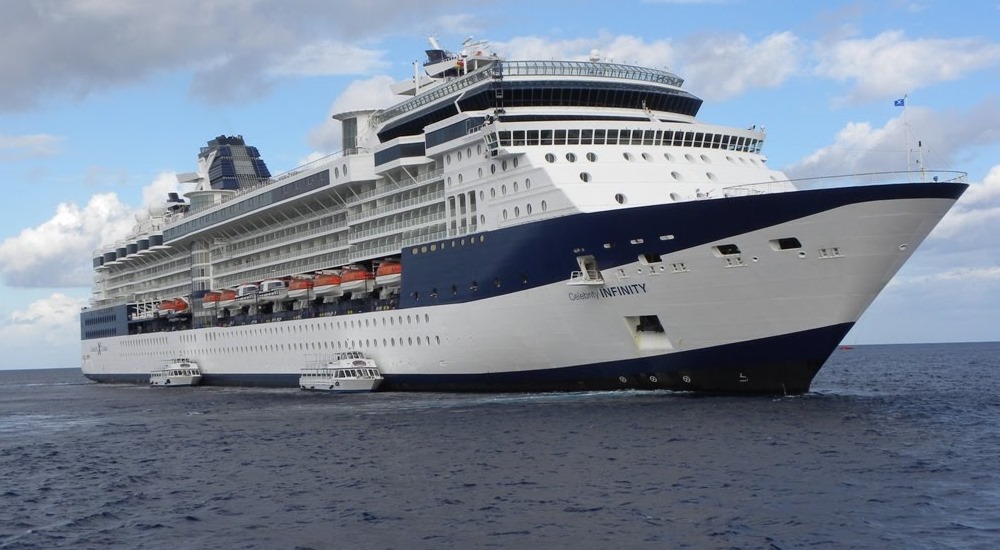 Projects: Cozumel Necklace/Earrings; Quick Wire Woven Mayan Pendant; Wire Weave Bangle (2 base wires); Crimped Bracelet; Elastic String Bracelet, Aztec Wrap Bracelet

Discussion Seminars: Buying Gemstones and Pearls; History of Central American Jewelry; Contemporizing Traditional Jewelry; Threading the Business Needle


---
- ~ - ~ - ~ -
Instructor, CraftArtEdu.com

CraftArtEdu is a truly unique
online craft and fine art e-learning community
Tutorials:
PRICING AND SELLING YOUR JEWELRY
SO YOU WANT TO DO CRAFT SHOWS...
- ~ - ~ - ~ -
Member, Nashville Fashion Group
---
"The Ugly Necklace Contest," in The Beader's Guide To Jewelry Design, Margie Deeb, 2014
"Gwynian Ropes Bracelet", Perlen Posie, No. 21, 2014.
---
Contemporizing Traditional Etruscan Jewelry Workshops, Toscana Americana, Cortona, Italy.